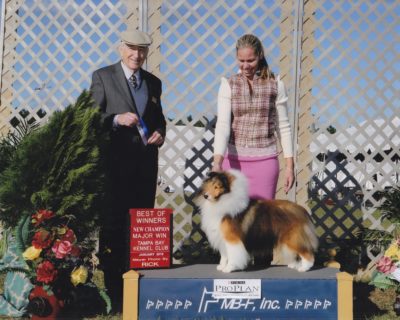 Silver Trails Shelties is located in Loxahatchee, Palm Beach County, Florida, and has been in existence since 1994 and we have been showing shelties since then.
We grew up loving all animals and enjoyed owning many dogs throughout the years. Our first encounter with the breed was dog sitting my brother, and sister-in-law's sheltie, Sandy, while they were on vacation. We fell in love with her and had to go right out and get one of our own.
Of course, we knew nothing of where to purchase a puppy and went straight to the local pet outlet where we purchased our first purebred breed/conformation show dog, NOT! To our surprise, he was not a show prospect at all and immediately realized that we needed help educating ourselves regarding shelties.
We experienced fear biting, spinning, nervousness, neurotic behavior such as excessive barking, general aggressive and destruction. Furthermore, lack of coat prompted us to do testing for thyroid which was practically non-existent.
Oh! Did I happen to mention he was oversized with numerous faults? Some good came out of this experience however as we have virtually dedicated our lives to improving the breed. At the turn of the century, we left the suburban life and moved to the country to follow our dream.
Our home is attached to the air conditioned indoor kennel which leads to the outdoor kennels through a doggie door. We like a home environment for all of our dogs. however we have two separate runs; a 10×25 exercise run for visiting bitches and/or bitches in season. The runs are covered and designed to reflect the Florida sun. In this way, the dogs stay happy, clean and safe. The dogs are allowed to run the acreage periodically throughout the day but only under strict supervision.