SUPPLIES: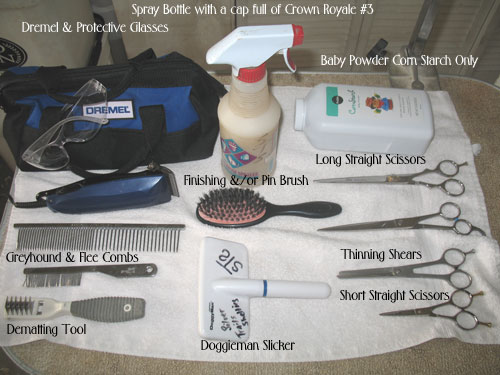 STEP 1:  BRUSH & COMB
[flowplayer src="http://www.silvertrailsshelties.com/wp-content/uploads/2018/11/BrushBody.mp4″ width="100%" poster="http://www.silvertrailsshelties.com/wp-content/uploads/2018/06/STSTitle-1.gif"]
Script:  Brush with the Doggie Man, comb (Greyhound Comb)  it out down to the skin. Make a part, brush, comb down to the skin and do that all the way up the length of the dog (both sides).
First, we line comb so as not to further knot up the coat. This saves a lot of time and labor when you get to STEP 3. 
Train your dog to lay on its side for brushing and combing. Never groom a sheltie, or any long haired breed for that matter, without spraying first (this is where you will need your water bottle containing water and a capful of Crown Royal #3), then brush out the coat with a slicker and follow up with a Greyhound comb. Keep parting small sections one at a time and repeat until you have fully completed one side of the dog then continue on the other side until the entire dog is combed. This technique is called line combing. The coat must be fully combed down to the skin.
Back brush the top of the ear leather with a slicker and then back comb with a flea comb. Check for mats behind the ears, under front legs and private areas. Mats behind the ears can be removed without making holes in the coat with a seam ripper or a
dematting tool made for this purpose; mats between the legs and private areas should be removed very carefully always protecting the sensitive areas. Of course, if you come across a very matted area that cannot be saved, you will carefully cut it out or shave it out, whichever you prefer keeping in mind the comfort of the dog.
When you are able to run a Greyhound comb freely through the entire coat down to the skin, you are ready to shampoo the dog.
STEP 2:  SHAMPOO
We highly recommend:

www.kvvet.com

for all your grooming supplies. No, I am not paid to promote KV Vet. Quite honestly, I cannot find better prices for dog supplies and a lot of items are shipped free of charge. 

Shampoos: Personally I like to use Black Pearl for a black coat; Quic Color for the sable and blue coats and Crown Royale Magic Touch #3 to condition the coat. (Use a clarifying shampoo for a coat with signs of dandruff and an oatmeal shampoo for a coat with signs of irritation.)
After you have brushed and combed out your dog, you may now shampoo. Always protect the eyes with an ointment specifically made for that purpose (I use Artificial Tears Ointment). Soap up all areas and rinse thoroughly. Pay special attention to the private areas and check anal glands. Have your veterinarian check and empty the anal glands as needed during annual visits. For more information regarding anal glands, see www.lowchensaustralia.com/health/analsac.htm
| | |
| --- | --- |
| | This is Spanky after a bath in the dryer. |
STEP 3:
REPEAT STEP 1 – BRUSH AND COMB
After the bath and blow dry, brush and line comb once again.
The grooming schedule for any long-haired dog is:  brush daily, comb weekly down to the skin and bathe as needed. I tell owners, if you don't have the time or inclination to do it yourself then you MUST pay to have it done and done often and thoroughly.
The same with nails. Keep them short to prevent arthritis. Long nails can send trauma up through the tiny joints in the feet and splay the feet. That click click sound on the tile is telling you TRIM MY NAILS! So… cut or dremel weekly, see dremel instructions at: www.doberdawn.com/doberdawn/dremel.html
ALRIGHT! YOU HAVE YOUR
HOMEWORK CUT OUT FOR YOU SO… I'LL SEE YOU SOON
WITH MORE EXCITING GROOMING TECHNIQUES 🙂